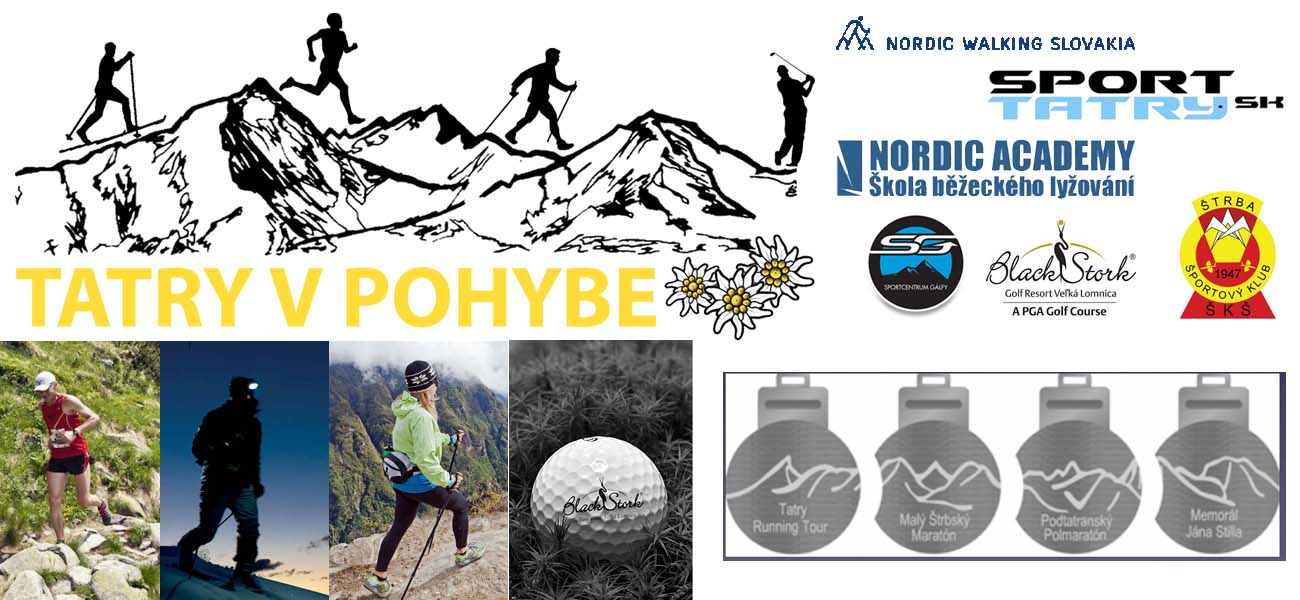 Running clubs, running organisations got connected together and developed new project in High Tatras called Tatra in move.
Tatra mountain used to serve big events such as world championship in skiing and this is the main thought of this project comments the director of ZCR High Tatras Mrs. Lucia Dubielova.
The main events coming up in next few days are listed down below.
| Date | Place | Event name | Type |   |
| --- | --- | --- | --- | --- |
| 02/2015 | Vysoké Tatry | Winter runs | Race for everybody | Web |
| 15.2.2015 | Veľká Lomnica | RETRO run on skis | Public race | Web |
| 03/2015 | Vysoké Tatry | Skialp GRAND TOUR   | Ski touring night race | Web |
| 28.3.2015 | Štrbské Pleso | FREE RIDE | Ski test | Web |
| 03/2015 | Štrbské Pleso | Public cross country race | Race for all | Web |
| 11.4-12.4. | Veľká Lomnica | SKI and GOLF | slalom / golf | Web |
| 19.6.2015 | Štrbské Pleso | TATRY RUNNING TOUR – Night run | night run (4 km) | Web |
| 19.6.2015 | Štrbské Pleso |  Sky and Clouds | extreme mountain run | Web |
| 20.6.2015 | Štrbské Pleso |  Nordic walking tour 2015 | european championship | Web |
| 20.6.2015 | Štrbské Pleso | TATRY RUNNINGTOUR – Cross run | Mountain run (12 km) | Web |
| 21.6.2015 | Štrbské Pleso | TATRY RUNNINGTOUR – Interski run | Mountain run (8 km) | Web |
| 1.7-3.7.2015 | Veľká Lomnica | LKG v rankingu WAGR | Golf cup | Web |
| 12.7.2015 | Štrba | Malý štrbský maratón | Road run (10 km) | Web |
| 18.7.2015 | Nová Lesná | Nordic Walking Tour 2015 | Nordic walking (9,8 km) | Web |
| 18.7.2015 | Nová Lesná | Memoriál Jána Stilla 2015 | Mountain run (9,8 km) | Web |
| 21.7.2015 | Poprad | Night run – Poprad – finále | Night run |   |
| 28.-30.7.2015 | Veľká Lomnica | Slovak Open | Slovak golf championship |   |
| 19.- 21.8.2015 | Veľká Lomnica | FALDO Series Slovakia Championship | Junior golf championship | Web |
| 1.9.2015 | Poprad | Podtatranský polmaratón | Half-marathon (21 km) |   |
| 19.9.2015 | Štrbské Pleso | NW Tour 2015, XXI. MPA, | Nordic Walking (8 km) | Web |
| 19.9.2015 | Štrbské Pleso  | XXI. MPA | Mountain run (8 km) | Web |
| 20.9.2015 | Štrbské Pleso  | Cykločasovka | Road bike race (8,7 km) | Web |
| 1.10.2015 | Veľká Lomnica | Tatranský 7 boj | team race |   |
| 15.11.2015 | Tatranská Lomnica | Steeplechase Run  | Prekážkový beh (8 km, 4 km) | Web |
| 12.12.2015 | Tatranská Lomnica | Winter Nordic Walking Tour 2015 | Winter Nordic Walking (do 7 km) | Web |
| 12.12.2015 | Tatranská Lomnica | Zimná bežecká séria | Winter run (do 7 km) | Web |